Rugby might be fun to play, but considering it is a full-contact sport, the aggressiveness of the game makes you prone to injuries. Equipment is essential to keep you safe and reduce the risk of injury to a minimum. While training, you need to feel comfortable, so make sure to choose proper clothes and boots. Of course, rugby cannot be played without a ball and using the wrong one can damage your performance.

Rugby ball

The most basic skill all players need to master is ball handling. As obvious as it may sound, you need to select the right ball based on your skills and training requirements. Balls are designed for different activities – leisure, training, matches. Both weight and material will depend on the activity. Also, there are different sizes of rugby balls in accordance with the players' age. Choosing the correct rugby ball is crucial as it will have a massive impact on your game.

Training clothes and footwear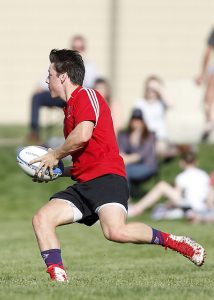 Due to constant movement, you need to be comfortable while exercising. Choosing soft materials and well-fitted clothes will prevent skin irritations. Since you will be sweating a lot during your training, choose the fabrics that can soak up the sweat and keep you dry and fresh. Basically, lightweight, breathable moisture-wicking outfits are a winning combination.
Rugby boots offer protection and comfort for the feet and ankles, and your choice should firstly be based on the demands of the position you are playing. Rugby boots are made for both soft ground and firm ground surfaces, so take into consideration the environment you'll spend most of the time in.
When it comes to the appropriate size – for length, leaving some room at the toe is recommended, and for width – your leg should be fixed without feeling too tight, small side to side movement is allowed. 

Protective equipment

Your smile is your best accessory and to keep it you should get a mouth guard. Various models are available in the market, but you can also have one custom-made at your dentist's. Head injuries such as concussions can be quite serious, so you should definitely have headgear included in your kit. Their composition is pretty much the same and in accordance with the standards, so the best headgear would be the one that fits best. A protective vest will absorb the impact of rough physical contact. Protection pads for your shoulders, spine and chest as are sewn into the fabric. Select body armor that provides maximum comfort and thickness of padding. Shin guards will definitely add protection to one of the most exposed and sensitive areas of the body. Nowadays, as the technology advances, shin pads are no longer bulky and will not affect your performance – they fit well allowing unimpeded movement of legs and alleviate painful contact. Shin guard size depends on your height. All manufacturers offer a size guidelines chart so you will have no issue selecting the appropriate fit.